If you are here, it's possibly because you're dreaming of an elopement adventure in California — I mean who could blame you? Let me be the first to say you've made a great choice, I know planning an elopement itself can feel overwhelming, I'm here to help you!
I created this step-by-step guide, How To Elope in California: The Ultimate California Elopement Guide, to help you plan your dream elopement in California! (Updated for 2024)
To set the record straight on what it means to elope in today's world, let's answer the question: what is an elopement?
Today, the word "elopement" symbolizes more than just a way to get married; it's an intentional, personalized, one-of-a-kind experience focused on the couple and their love. Elopements allow you to craft the wedding day of your dreams without limitations, unnecessary stress, or outside pressure. They bring the focus back to you and your love, allowing you to celebrate and honor your marriage in a way that is authentic to you without distractions.  When you're eloping, you can plan an epic adventure together in the great outdoors, rediscover each other, embrace each moment, and create memories that will last forever. 
So, Why Elope in California?
As a California elopement photographer who has called the golden state home for the last 15+ years, I can confidently say there is nowhere better to celebrate your love than California. There are so many reasons to elope in California, but here is a short summary of why couples choose to elope (and why I think you should too):
Versatile & Beautiful Scenery
California is home to 9 National & 281 State Parks and it has everything from iconic mountain peaks, lush redwood forests, magical deserts, serene lakes, and incredible famous coastlines! 
Because of its beauty and ease of access, it has been in tons of films and it has been increased in popularity over the years! Honestly it has every scenery you can think of and you can't go wrong with any of the scenery you pick because you will have a unique experience with each location. 
Perfect Honeymoon Destination
California is one of the top honeymoon destinations in the U.S. because of the endless amount of activities and places you can visit! You could spend your first day as newlyweds wining and dining in Northern California's premier grape-growing region, Napa Valley.  Stay in one of the lavish beach resorts in Santa Barbara or Laguna Beach. Go glamping in Joshua Tree and spend your evening star gazing or take a road trip along the 840 miles of California coastline and enjoy one of the most beautiful drives in the world. There are so many ways to enjoy California!
California is one of the most popular tourist destinations for its shining coastlines, vibrant hubs, and limitless adventure year-round! Because of its popularity, a lot of the hiking destinations have cities & towns nearby that has great accommodations. You won't run out of activities to do, places to dine and stay, anywhere you go!
Endless opportunities for adventures
Whether you're exploring the vast desert, hiking through towering redwoods, backpacking up snow-capped mountains, or sipping wine Sonoma – there's something for everyone here. The amazing weather for the majority of the year definitely makes planning your dream adventure much more enjoyable.
Because of the amazing weather and being on the coast, we get the freshest and variety of food! You will be able to enjoy endless types of finest cuisines and there will be something for everybody! We also can't forget our famous Napa Valley wines!
How to Get Married in California: Legal Marriage Laws
Let's talk elopement logistics! First, you should know that getting married in California is as easy as saying "I do" to a life of adventure. Here are a few things to help make the process even smoother.
You'll need to obtain a marriage license to legally marry in California. The fee will vary from $35-$100, depending on the county. Be sure to contact the offices near your ceremony locations before applying. 

There is no waiting period. You could essentially apply in the morning and get married that afternoon. You can apply at any of the 58 county clerk's offices in person. Many counties allow you to download the application online to fill out the form beforehand! You'll need to bring a valid picture identification for your in-person appointment.

Your marriage license is valid for 90 days.
You will need 1 officiant and 1 witness present at the time of your ceremony to be official and legal. (You can also request a Confidential Marriage License which only requires 1 officiant)

If you weren't planning on bringing guests, don't worry, I can sign as a witness and have done it many times!
For more info, check California Department of Public Health
When is the best time to elope in California?
California is known for its beautiful weather year-round. Northern California offers 4 full beautiful seasons, and Southern California has 75 degrees pretty much most of the year. Honestly, there is no bad time to elope in California. However,  if you want to avoid the tourist crowds, elope from April-May & to September-October for predictable weather and avoid tourists. 
Although, even if you decide to elope during the peak season, there are still ways to have an all-exclusive elopement experience (i.e. hidden gem location, sunrise, remote location).
12 of the Best Places to Elope in California
It can be overwhelming to decide where to elope in California and I don't blame you — there are so many breathtaking locations!! I've create a list of 12 amazing elopement locations in California which has one of the best views and experience! For a more detailed list of epic elopement locations in California, check out my Best Places to Elope in California Blog, where I've listed my favorite elopement locations that are sure to take your breath away!
One of my favorite National Parks in California! From the iconic Half Dome to the beautiful meadows, it is one of the most beautiful location you can have your elopement!
Redwoods national & State park
If you love whimsical fairytale like views, this is the place. The towering redwoods and lushes ferns will make you feel like you have stepped into a wonderland. 
This is another California's iconic location! Drive down Highway 1 and witness the crystal blue oceans and colorful succulents filled cliffs. When you drive inwards, you will be greeted by the redwoods. 
If you absolutely love outdoor activities, Lake Tahoe is the hub! Not only you will love the variety of activities, the clear turquoise blue lake and the views of the mountains is quite the site. Everything is so close from each other, its great for small groups!
This is an underrated location! From beautiful mountain ranges, endless choices of lakes and hot springs, its one of the most beautiful places if you love mountain views! Its perfect if you want to have secluded experience! 
Perfect location if you want to stay close to SF. This hiking filled coastal location offers so many variety of scenery. The foggy weather occasionally makes it feels like you have traveled to the Scottish highlands.
One of the cutest coastal town you can visit in Northern California. This art filled community offers such a great experience for tourists and the coastal views is nothing alike! It is also secluded and has great hospitality for groups!
Hidden Gem location that I've grown to love. This location is so hidden that no matter what time or day of the year, there is absolute seclusion! Gorgeous Redwoods and beautiful coastal cliffs will warm your soul.  
This is the hub of the most gorgeous waterfalls in California! Snow dusted mountains, high-elevation trails, and untouched rugged land, this location is for those who loves the challenge to achieve breathtaking views. 
There is something so special to this Southern California National Park. Iconic cactus trees surrounding the whole land with unique boulders, this location is perfect for those boho style couples. Absolutely out of this world sunsets and great accommodations for intimate weddings and elopements!
45min from San Francisco, this National Monument is perfect for those who loves Redwoods but wants to stay near the city! Gorgeous huge redwoods with wooden pathway, it can't get any better!
This is my family's favorite vacation location! Warm sunny beaches and redwoods, it is one of the best coastal towns in California! There are so many venues around and it is perfect for intimate weddings and groups!
How to Elope in California: Step-by-Step Guide
Now that you know the reason why and where to elope in California, here is the answer to your question: How to elope in California? 
First of all, I want to clarify that there is no right or wrong way to elope. Although I believe that it should be stress-free and represent your love & journey that brought your here. In order to plan an elopement day that is intimate and meaningful, you have to be intentional with what you implement to your day. I broke into steps to make it easy to plan your elopement day while being intentional & valuing your experience:
Step 1: Write down your elopement vision
Make time together with your partner (schedule it if needed) and do this exercise together. Close your eyes and envision your elopement day. What do you see? Who are you with? What's the weather like? 
This is a great exercise to take a moment to think from the heart. Share your visions with your partner, and you will be able to decide what is important for both of you. Write down your visions and make sure to go back to this answer if you feel stuck when you are planning. Remember, no dream is too big!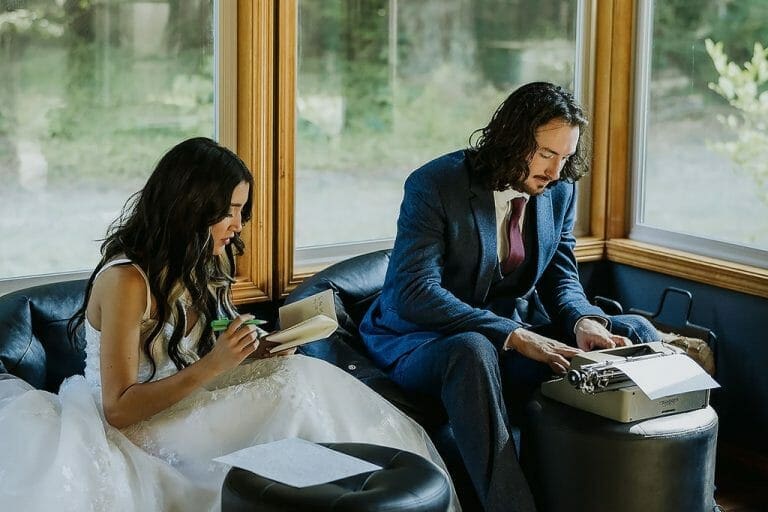 Step 2: Determine your elopement budget
After you've taken a moment or two to think about your dream day, you'll have a better idea of what kind of experience you would like for your elopement day. This will help you determine your budget and start planning for your elopement day. 
As you have probably gathered by now, know that your options regarding your elopement experience is endless.
To help you give a better understanding of just how much your dream elopement day may cost, I created a blog post (How Much Does it Cost to Elope) dedicated to explaining the cost of having an elopement in California and an elopement calculator which can help you determine your average cost!
It will help you see if the experience you're dreaming of is worth the investment and if so, what you need to budget for! 
Step 3: Pick your location
Deciding where to elope can be the most challenging part of eloping in California because there are so many gorgeous places to choose from!
Keep your elopement vision in mind as you research different locations to help you narrow down the perfect spot. You may also want to consider what kind of landscape you love the most: redwoods, mountain, lake, desert, or beach.
Do you plan on doing any activities, like hiking, kayaking, or going on a helicopter ride? Are you inviting guests or keeping it just the two of you? If you plan to have guests, you'll want to consider their mobility. Lastly, are you looking for a completely secluded area, or are you okay with a few on-lookers? 
California has 9 National Parks and over 300+ State Parks. Needless to say, you have options among the city parks, Airbnbs, and private land! For more elopement location inspiration, check out my list of the "Best places to elope in California."
If you were able to select your location, I suggest selecting your date according to the weather, peak tourism season, and seasonal attraction. 

As I mentioned above, California is beautiful year-round, but your elopement experience can change depending on the season you visit the parks. Revert back to your elopement vision and see if you saw different seasonal beauties (wild flowers, waterfall, fall foliage, snow, etc)? Do you and your partner particularly enjoy certain weather?
Even if you have less flexibility with your schedule, there are different ways to elope during busy season with seclusion. 
PRO TIP: If you're hoping for more of a private elopement experience, avoid getting married in June-Aug. Spring & Fall is the best time to elope!
Step 5: Book your Photographer
This step can be #3 since an expert elopement photographer can help you recommend the best location and the best date for that specific location. Hint someone like me 😉
It's so important to hire an elopement photographer whom you can trust, whom you connect with, who will guide you, and who offers moral support & resources. If you are not sure on deciding where or when to elope, you can contact your photographer first, and they can help you select your location and date. Remember, you are special, and your love is special, and you deserve a photographer who understands that; I'm all about guiding you through planning the best day of your life while being able to be present to experience and then relive it through your images!
Step 6: Apply for Special Use Permit
(if needed)
Once you have the location, date and photographer, you have all of the criteria to apply for the Special Use Permit.
Most State & National Parks require couples to apply for a Special Use Permit in order to have their ceremony & portraits taken at the State & National Parks.
The permit application process varies by location, and in some instances, you may not need one. The good news is that I've done it all and will guide you through the entire process!
Step 7: Hire your vendors 
There are many ways to elevate your elopement experience and one way it to hire vendors.
Imagine showing up to your elopement day and everything is taken care of, you just literally experience it!
Hiring your dream team is essential to ensuring you have a flawless elopement adventure. All elopements are unique and will require different vendors to meet their needs; here are a few vendors to consider as you plan your day: officiant, florist, makeup & hair, videographer, elopement planner, pop-up picnic, and catering. I also offer vendor recommendations based on different locations in California!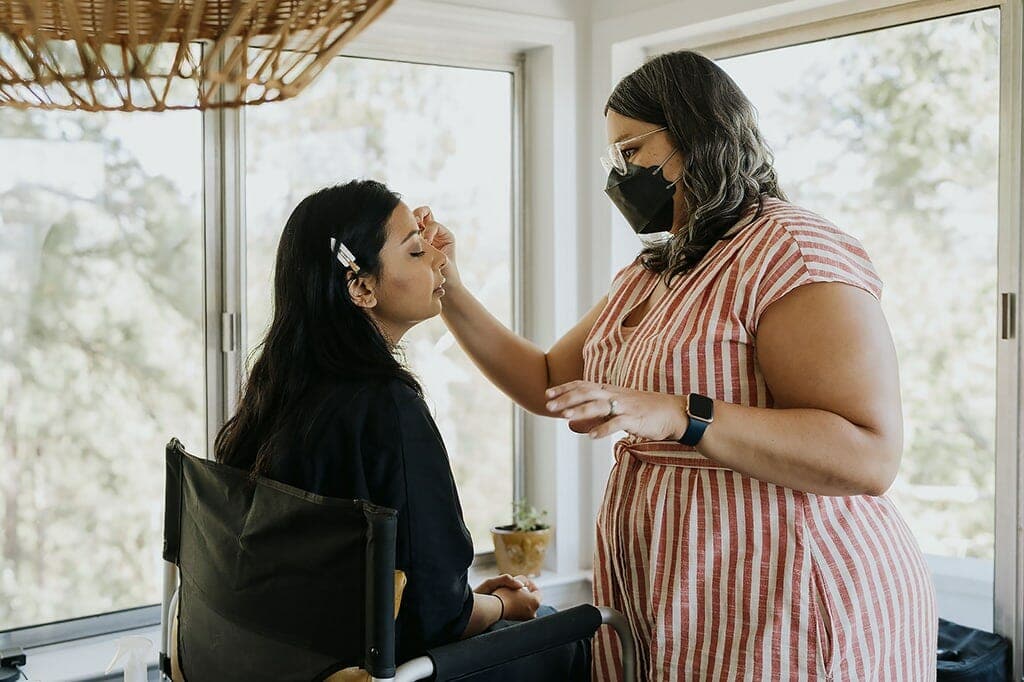 Step 8: Dream and bring all of the details to a reality
Your dream elopement day is coming together! Most photographers & planners will help you craft an elopement timeline for the day! Once you have all of the important details, it is the time to double check your itinerary, gather all of the items, pack your luggages, and wait patiently for your amazing day! (Waiting part will be hardest!!)
To ensure an amazing day, it is important to have the right mindset, stay healthy and get LOTS OF REST. I know it may sound so simple but oftentimes it is so easy to skip the step caring for your body and mind trying to prepare for the day.
If you would like recommendations on prepare your body and mindset for the day, check out my Top 3 Tips to Actually Enjoy your Elopement Day!
Step 9: Show up to your epic day!
Now that you have planned and prepared for your epic day, all you have to do is embrace every second of your magical adventure! It really is that easy!
Like I mentioned this before, there is no right or wrong way to elope. It is all about making it your vision. Similar to traditional weddings, things may not go the way you planned but the most important thing is that you are getting married to your best friend. But what is different from traditional wedding is that you truly poured your heart & soul into your experience and you get to be truly yourselves!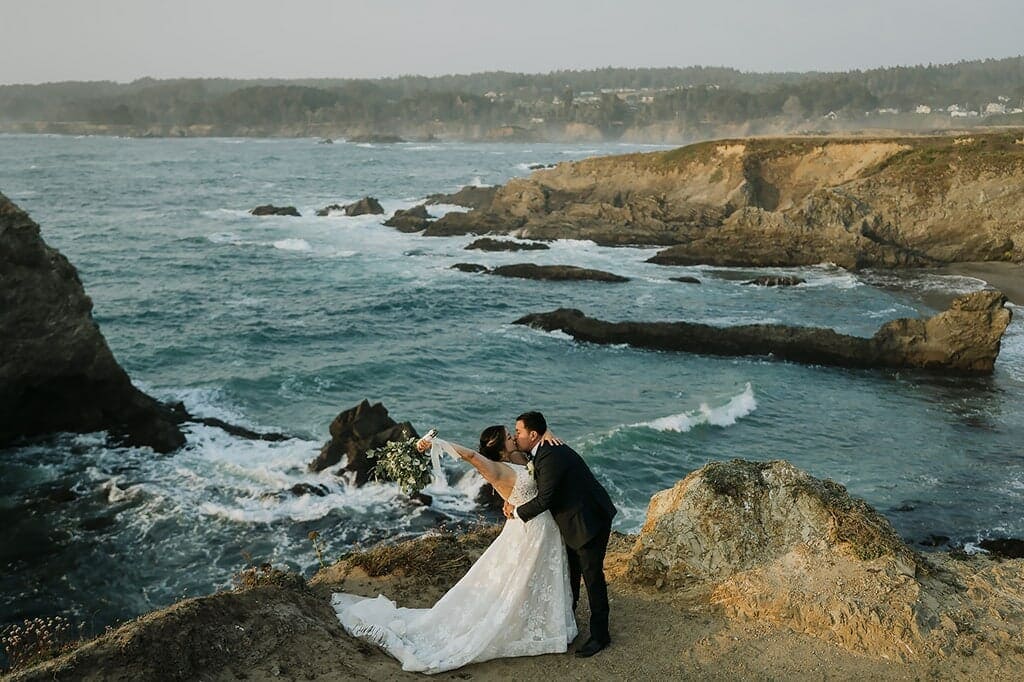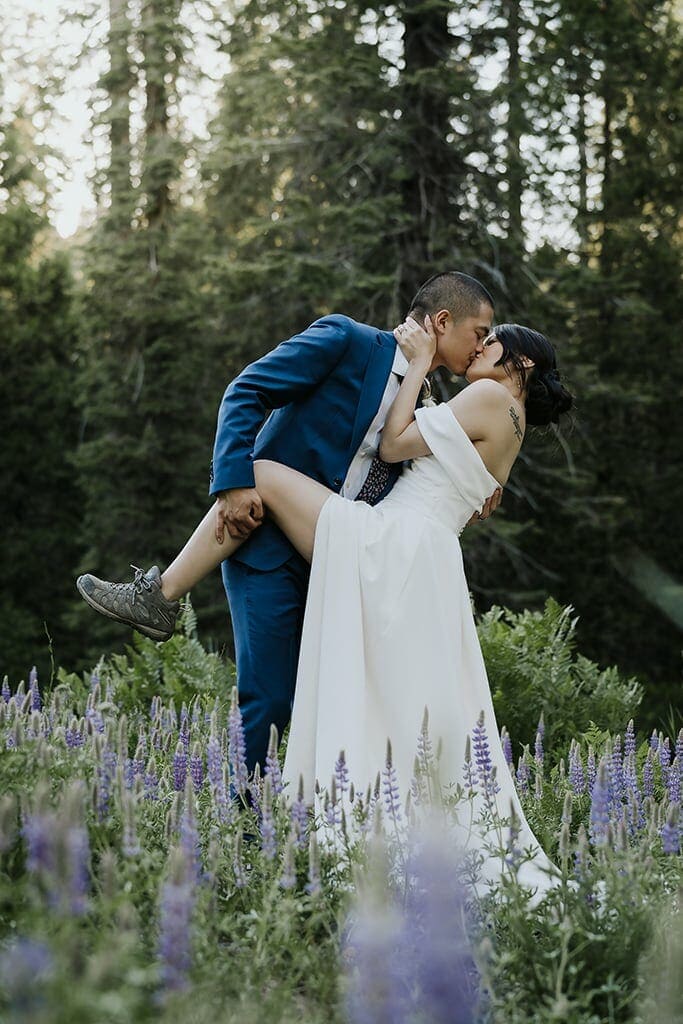 What to Wear to Your California Elopement?
Finding the perfect elopement attire is such an exciting part of your elopement planning journey, but it can also be overwhelming. Here are a few things to keep in mind as you hunt for your dream dress (or pantsuit!):
Wear what you feel comfortable in!

You don't want to spend the day fidgeting around or avoiding blisters in new shoes. Make sure you're footwear is worn-in and wear the proper socks (super important!) to support your feet!

Choose something that makes sense with the activities you have planned.

If you're planning to do any hiking or adventurous activities, you'll want something you can move freely in.

Consider the weather:

If you're planning to elope in a warmer climate, you'll want lightweight, breathable fabrics. Like nylon, cotton, linen, or polyester. For cooler climates, layer up! Especially if you're eloping on a brisk early morning! Fleece lined leggings, Scarves, jackets, sweaters, thick socks, and blankets are all great options for keeping you cozy and warm.

Wear something you feel confident in!

It's equally important to feel confident as you are comfortable in your elopement attire. It's your wedding day; wear what feels like you and makes you feel beautiful. This means, you don't have to be confined to wearing long, white or even a dress. Because you are already beautiful, and when you feel good, you look even better!
What to bring to your California Elopement Checklist
Must bring items for your elopement day
Hiking Shoes (broken in): Trust me, you don't want to have to deal or even think about blisters on your wedding day! If you buy new boots for your adventure, break them in with a few hikes before your big day! 
Hiking Socks: yes, they are different!
Thermal Leggings: This is for winter elopements or those brisk sunrise elopements adventures 
Hiking Backpack: The perfect place to house all your necessities comfortably. 
Snacks & Water: Never underestimate the power of water or snacks, especially if your day includes a hike or any adventure! 
Emergency Kit: You never know what can happen when you are on an adventure! It's always best to be prepared!
Light Jacket & Warm Jacket: Master the art of layer is key to staying comfortable through the day and the changing temperatures.
Headlamps + Extra Batteries: A bright light with a comfortable strap is essential for sunrise and sunset elopement adventures.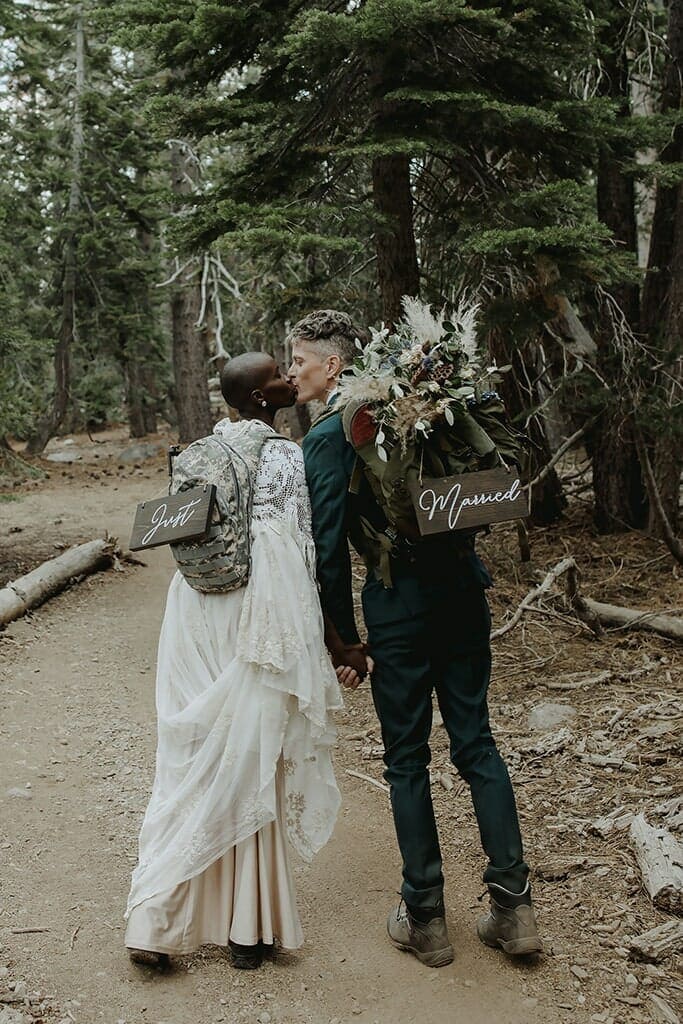 Things to do in California
One of the main reasons California has become such a popular elopement destination is because of the endless activities there are to do here! If you really want to elevate your elopement experience, I highly encourage you to consider adding one (or more) of the following epic adventures into your elopement day timeline!
Here are some of the fun activities you can do while you are visiting California:
Off-roading

Zip-lining

Hiking/Biking

Train ride

Kayaking/Paddle Boarding

Farmers market

Helicopter tour

Boat tour

Whale watching 

Hot Air-balloon rides 

Ski/Snow Boarding 

Wine Tour in Napa Valley 

Visit Disneyland or California Adventures

Museums (Art & Science)

California Coast Piers

Zoos & Aquariums

Get pampered at a spa in a luxury resort 

Drive down highway 1
Are You Ready To Elope in California?
Hope this How to Elope in California: Ultimate California Elopement Guide gave you practical steps and inspiration for planning your elopement day in California.
It can be very simple & easy to plan your elopement although it can be overwhelming at the same time. This is why I'm here as an Elopement Photographer and Guide to help you simplify your planning process and take care of things to give you the freedom to dream up your day! 
Are you ready to start planning your California Elopement adventure? Book your free consultation with me to see if we are a good fit!