Best Paces to Elope in California
Wondering where is the best places to elope in California? Well, look no further because you've come to the right place! I have been calling California my home for the past 10+ years and I can't think of a better place to not only visit but to say your vows. Since California is a long state, we often separate the state between Northern California and Southern California. The weather is completely different in these two areas and because of this, the golden state offers an amazing number of landscape options which makes it a little hard to pick (in a good way). California offers 9 national parks, and close to 300 state parks filled with amazing beaches, redwood forests, mountains, lakes, and deserts. No wonder California is considered one of the best destinations for an adventure! Hope this "Best places to elope in California" guide will make it a little easier for you to pick your absolute dream location for your elopement.
When is the best time to elope in California?
This may be a biased opinion but every season is a good time to elope! We are famous for the 75 degrees all-year-round weather but Northern California offers beautiful 4 full seasons while Southern California offers the perfect 70-75 weather. Since California is a very popular state for tourists, keeping the peak months (June-Aug.) in mind will help you narrow down the best time to visit. Although even if you decide to elope during the peak season, there are still ways to have the "we are the only ones here" privacy.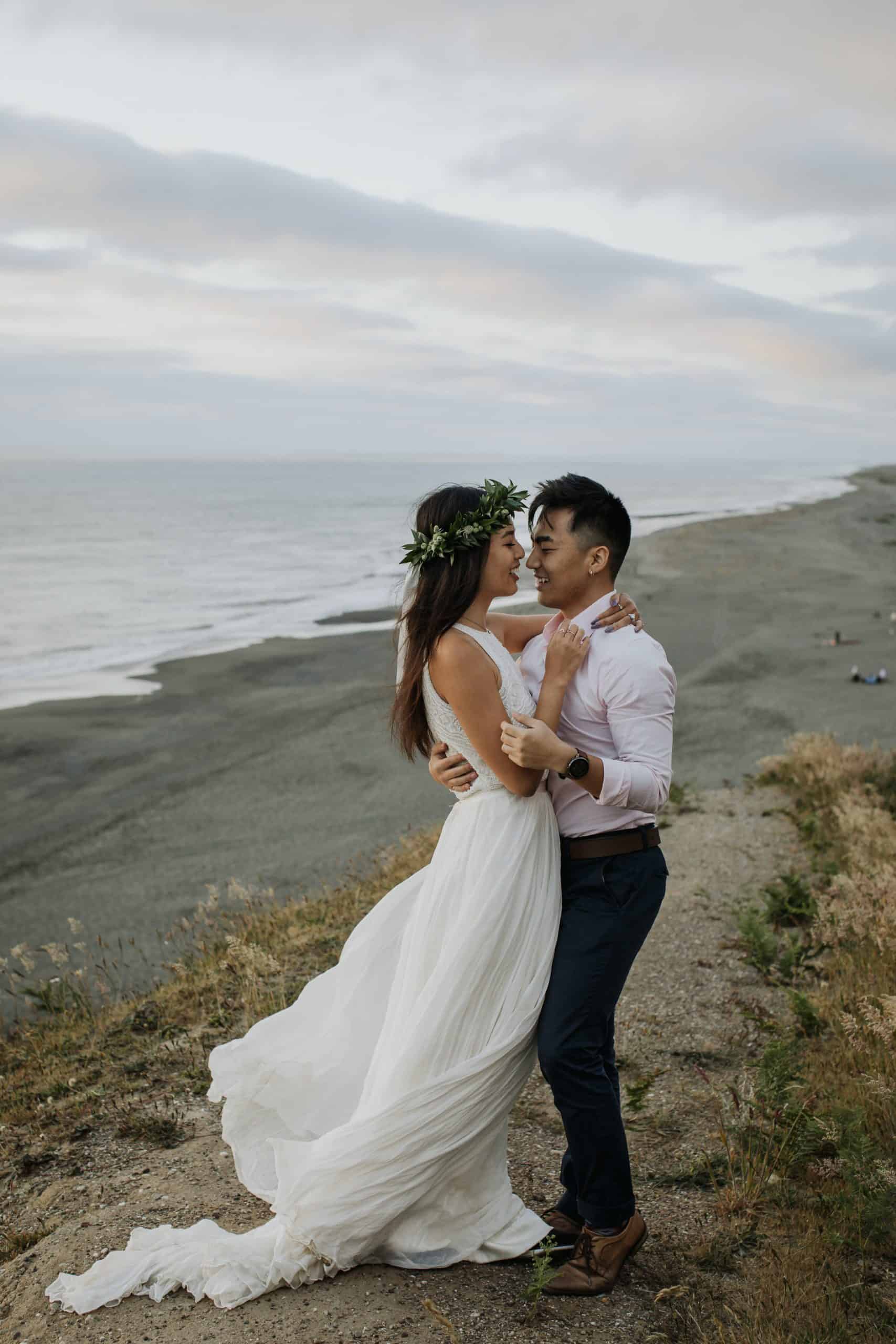 California Weather & Peak Seasons
Spring (March-May) Between 45-70
Full wildflowers bloom with fresh waterfalls from the melting snow. Beautiful and comfortable light jacket weather. Best for Mountain, Meadows, Waterfall, Redwoods, Lake & Coastal Elopements
Summer (June – Sept) 50-80
Even though the average temperature can be between 65-75, there are spikes of heat that can drive up the temperature to the 90s. This is the time to pick a cooler location like the coast and forest! Perfect for Mountain, Redwoods & Coastal Elopements
Fall (Sept-Nov) 45-75
You can expect mellow weather with beautiful fall foliage. The cooler temperatures will bring some fog in the mornings and afternoons.  The fall weather near San Francisco is sometimes called the "Indian Summer" since it's warmer than other areas. Best for Woods, Mountains, Lake & Coastal Elopements
Winter (Nov – March) 35-65
It is a rainy Season but for the mountain areas, it is a snow season! Winter brings lots of visitors to the Ski Resorts. Keep in mind certain parks and trails will be closed due to heavy snow. This is the time to make your winter wonderland crave a reality!  Perfect for Mountain, Woods, Lake, Elopements
Spring (March-May) Between 50-75
Spring is a great time to visit  famous for the super bloom poppy fields! You will enjoy this beautiful wildflower season with the perfect warm weather. Best for Mountain, Lake, Waterfall, Desert, Coastal Elopements 
Summer (May – Oct) 60-85
Enjoy our famous California weather! We have the perfect hot weather for anyone who wants to dip their toes into the water. This is a popular time for surfing or any other outdoor activities. Best for Coastal, Mountain & Redwoods Elopements
Fall (Nov-Dec) 50-70
Fall months are quite mild, so instead of the peak season, this is the best time to visit all the popular locations! It is perfect for Desert, Coastal, Mountain, Lake, & Redwoods Elopements
Winter (Dec – Feb) 50-70
Mild winter months offer perfect light jacket weather. With full blown snow in the dessert, winter looks totally different. This is the best time for Desert, Mountain, Coastal, Redwood Elopements 
Best Places to Elope in California
California is one of the best places to elope because it offers any type of location you can think of! It can be very tough to decide what where you would like to elope, so I've listed my top favorite EPIC locations that will take your breath away.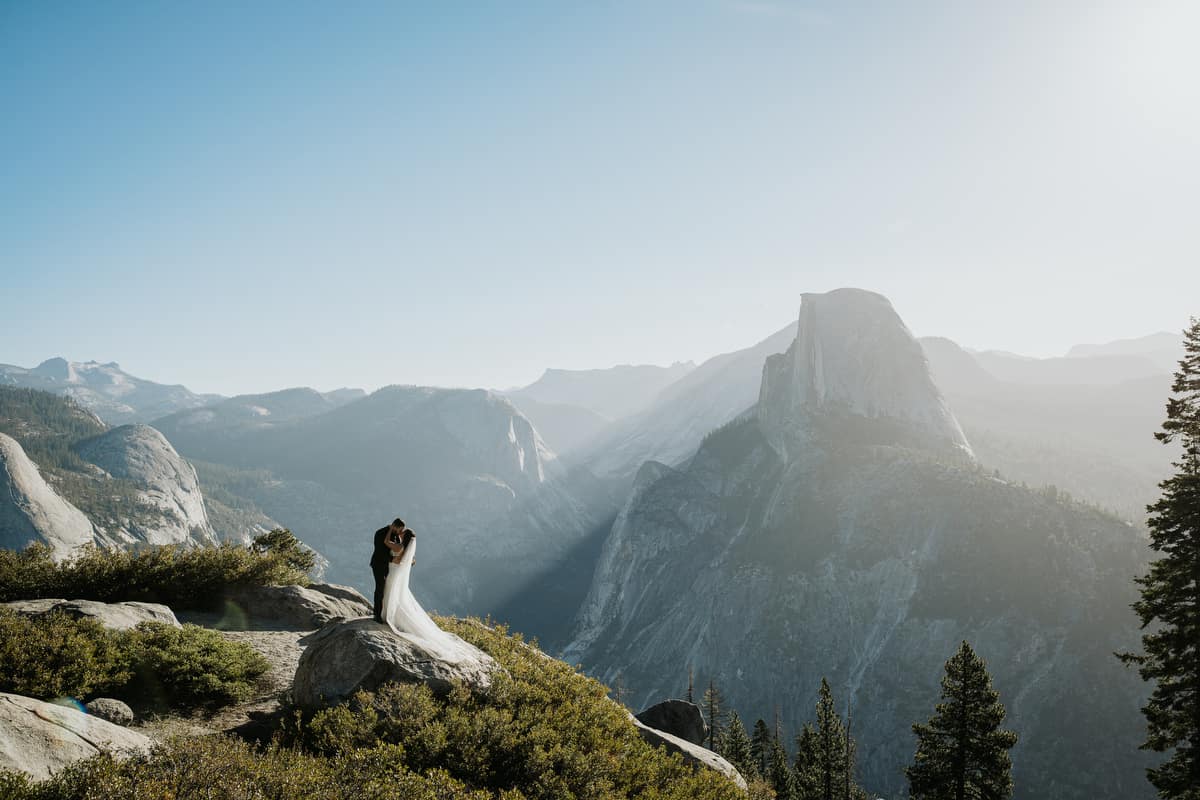 VIEWS: (MOUNTAIN, MEADOW, WATERFALL, LAKE, WOODS)
Yosemite is one of my favorite places to be, hands down! Yosemite has my heart since this is where I met my husband, but not only that, this is the first national park I've visited in the US.   Since then, I've been more adventurous than ever!
From the beautiful half-dome mountain to the gorging mighty waterfall, Yosemite offers such a variety of views from the bottom to the top! This is one of the most visited national parks in California because of their popular cliff edge mountains. It is hard to pick the best season to visit.  The meadows are filled with wildflowers in the springtime, the burst of colors are seen during the fall season,  and your soul will be filled with the winter wonderland when snow falls. Every season is different and offers a unique experience. The best time is to visit is during the off-season so you can enjoy the tranquility this majestic place offers. 
Pro Tip: The road to Glacier Point and Taft Point is closed during November to mid-May due to snow,  so make sure to check the Yosemite National Park website for updates.
UPDATE: Glacier Point Road leading to Glacier Point & Taft Point will be closed under construction in 2022. Book your elopement now if you don't want to wait until 2023!
Redwoods National & State Park
VIEWS: (THE REDWOOD FOREST, BIGGEST REDWOOD TREES)
One of the best places to elope in California! Warm sunlight peeking through the towering ancient Redwood trees, huge green ferns filling in the gaps between the redwood trees, cool but perfect Pacific Northwest weather are perfect for your cozy clothes.  It doesn't get any better! This is the mother of all Redwoods Forests, the ultimate place you can experience the 2000-year-old Redwoods trees! The 38,000 acres of lush green old growth Redwoods forest will make you feel like you are in a fairytale. Since Redwood National Park is on the far north end of California, there is a lot less foot traffic compared to other National Parks and this gives eloping couples ultimate privacy! 
VIEWS: (REDwoods, Natural bridges, Coastal Cliff, Beach)
Santa Cruz is our favorite place to vacation and visit! The weather is very similar to Southern California and it feels warm and sunny all year around! The redwoods forest is only 20-30min from the coast and it is the home to the famous banana slug! There are tons of venues around and it is the perfect location for intimate weddings and groups because it has so much for your family & friends to enjoy. Even if you are not getting married, visit Santa Cruz and check out their newly refinished boardwalk!
Special Use Permit: Depending on the location, but for State Park, it is $100 starting and additional for bigger groups. 
Weather/Peak Season: Peak (June-August) It can get very busy during the summer months! Lots of tourism and parking can get a little tough, visit in April and September-November!
Venues: Sparrow Valley Retreat, Kennolyn, Roaring Camp, Amphitheater of the Redwoods, Nestledown
Lodging & Nearest Cities: Tons of lodging on the beach and in the redwoods! Best places to stay is in Santa Cruz, Felton and in Aptos!
VIEWS: (LAKE, MOUNTAIN, WOODS, WATERFALL)
This crystal blue lake, surrounded by the Sierra Nevada mountains, is one of the most popular lakes in California. The whole town of South Lake Tahoe is filled with pine trees,  and it makes you want to put on a flannel shirt and sip on some hot coco. Lake Tahoe is heavily visited during the winter months for the Ski/Snowboarding season although most trails may be closed due to tons and tons of snow! We have our go-to Plan B locations, so we've got your back! Besides the popular winter season, Lake Tahoe has an amazing fall season! Just imagine walking through the tall tan grass with bright yellow and orange fall foliage painted over the mountains. It literally sounds like I'm describing a painting, but it is seriously breathtaking. Fall is also a quieter time to visit, which gives you the "just us" experience.Pro Tip: Snow conditions can change drastically! A flash storm is no joke (personally experienced and the snow will pile up quickly) and it can change your entire plan. Make sure to have a plan B and flexibility with your date if you are planning to elope in the winter season!
Important Info: Since South Lake Tahoe is located on the California -Nevada border, make sure to apply for your marriage license in the right state.
Weather/Peak Season: Peak (June-August & Nov-Feb) Lake Tahoe has two peak seasons. During the summer, it brings all the vacationers to the blue lake,  and in the winter there is lots of traffic to the ski resorts. 
Lodging & Nearest Cities: The whole lake has tons of lodging options from the north side to the south side of this beautiful blue lake. Some popular locations on the lake include South Lake Tahoe, Kings Beach, Olympic Valley (famous ski resort) and Heavenly Valley (main ski resort). 

Edgewood Tahoe Lodge
https://edgewoodtahoe.com/lodge
The Cottage Inn
https://thecottageinn.com/
Dog Friendly Airbnb
https://www.airbnb.com/rooms/9488295?s=67&unique_share_id=c9cadf9d-0f15-463b-ae04-b47895699832
VIEWS: (LAKE, MOUNTAIN, WOODS, MEADOW)
Mammoth Lakes is one of the hidden gems of the Sierra Nevada! The enormous mountain ranges to absolutely secluded the beautiful lakes. You cannot go wrong with having your elopement in Mammoth Lakes/Bishop area! This is a great location during off season to visit because it is further out from cities, which makes it a perfect place for an intimate wedding and elopement! It is also a popular destination for snow sports!
Pro Tip: This area gets heavily snowed and roads closed during snow season (November – March), plan ahead and choose your date ahead!
VIEWS: (CLIFF EDGE, OCEAN, BEACH, REDWOODS)
Just imagine walking through a trail surrounded by blooming succulents looking over the turquoise coast. This is what you will see in Big Sur. Or better yet, on the other side of the ocean lies the redwood forests.  Perhaps, this is why it is one of the most popular locations to visit on Highway 1! This is the destination for camping, backpacking, glamping or just staying in the cabins. Big Sur is one of the most sought out locations for an elopement because of the variety of state parks and beauty it offers,  and as a result, Big Sur has tons of small venues that deliver luxury experience. If you are looking to have an elopement with guests or an intimate wedding and looking for the ultimate VIP experience, Big Sur is perfect for you! 
Weather/Peak Season: Peak (April-October) Since Big Sur offers more than 300 sunny days a year, there isn't really a bad weather season to visit this amazing sun kissed coast. It is heavily visited during the warmer months from June to August and the campgrounds can be booked up pretty quickly. This is another reason why it may be a good idea to have your wedding at a venue to have privacy for your ceremony and lodging for your guests! 
Lodging & Nearest Cities: Big Sur offers tons of lodging options near or in the state parks! From campgrounds, tents, cabins to luxury cottages…you name it. They've got it all! It can book up very fast, so reserve your lodging as early as possible!

Ventana 
https://www.ventanabigsur.com/
Treebones Resort 
https://www.treebonesresort.com/
Glen Oaks
http://glenoaksbigsur.com/
Ripplewood Resort
https://ripplewoodresort.com/
Views: (CoASTAL CLIFFS, BEACH, CYPRESS TREES, WATERFALL)
Point Reyes is just 1.5hour drive from San Francisco and it is a perfect place for a day trip and enjoy the vast coastline. Point Reyes has lots of different sceneries such as Cypress Trees, Waterfall, Coastal Cliffs and beautiful blue beaches and surprisingly, it is not as busy as other National Parks in California, which makes it a perfect location for a secluded & intimate experience. In the wintertime, it is popular for whale watching!
Special Use Permit: Point Reyes National Seashore requires a Special Use Permit for Weddings & Ceremonies. To apply, fill out the application and make a payment of $50 (non-refundable).
Weather/Peak Season: Peak (Winter & Summer) Winter time is busy due to the popularity of whale watching. Summer time is also busy for the warm weather. Best time to visit is during Spring time (April – May) when the wild flowers are blooming and steady sunny weather.
Lodging & Nearest Cities: Point Reyes has tons of cute Inns and Airbnbs! The closest city in Inverness and you will find lots of coastal cottages and unique lodging.
Point Reyes Country Inn & Stables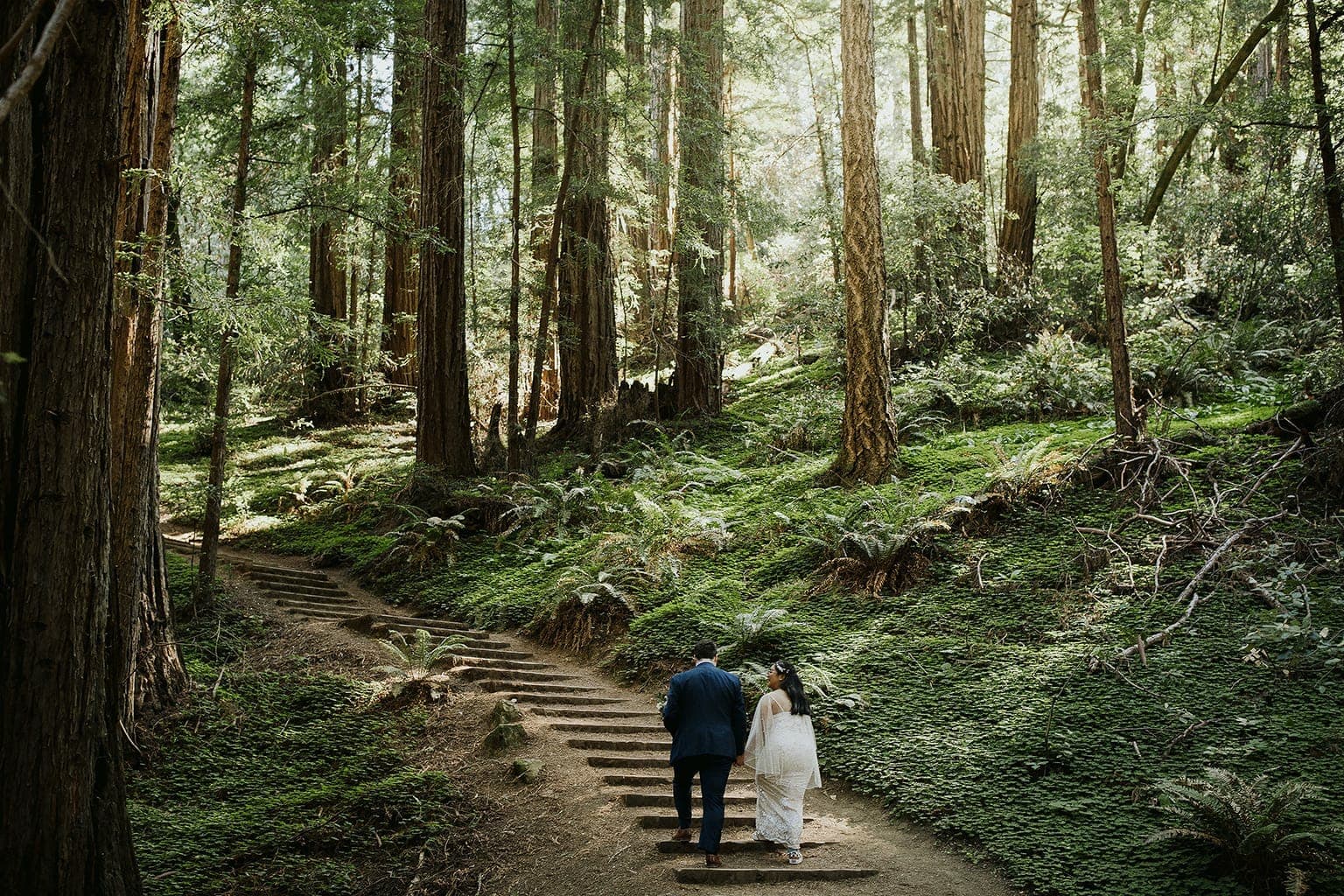 Views: (ReDwoods, Coastal Cliffs, Beach)
Want epic views but don't want to travel far? This may be the place! Muir Woods is just 45min from San Francisco and it is famous for being on the film series, Planet of the Apes. From towering large growth redwoods trees to lushes ferns, it is the perfect back drop for an elopement & intimate wedding. This park is also just 10min drive to Muir Woods Overlook, which features beautiful view of the Northern California Coast.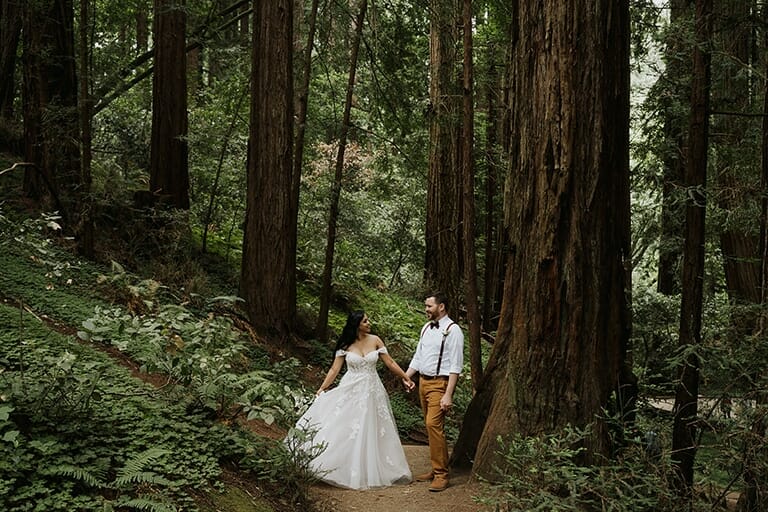 Special Use Permit: Muir Woods National Monument requires a Special Use Permit and the prices ranges from $65-$700 depending on the size of the group. They require the ceremony to take place at their designated locations and you can pick from 2 timeframe of the day (morning or afternoon).
Weather/Peak Season: Peak (June-August) Honestly you can visit all year around! The towering trees create a beautiful lighting throughout the day and in cooler months, it brings foggy weather. For more warmer sunny weather, visit during Spring & Fall. 
Lodging & Nearest Cities: Since it is close to San Francisco, there are tons of lodging! The closest city is Mill Valley and it is the cutest town!
Views: (MOUNtains, Lakes, Waterfalls, FOrests, Volcano)
If you are looking for waterfalls and mountain views, Mt. Shasta is your destination. Mt. Shasta has one of the most numbers of cluster waterfalls in California! There are so many waterfalls, you won't run out of trails to visit. Mt. Shasta also offers helicopter tours and you can elope on a mountain top without having to hike or see any human soul! The best part of Mt. Shasta is the beautiful alpenglow you can see right before sunrise and right after sunset–the changing colors will keep your eyes glued to this mountain!
Special Use Permit: Mt. Shasta is part of a Regional Park and they do not require a Special Use Permit for elopements & Weddings under group of 75!
Weather/Peak Season: Peak (June-August) Summer time is busy with campers and hikers! Best time to visit is April for Waterfalls and September-October for beautiful fall weather!
Lodging & Nearest Cities: Mt. Shasta has tons of lodging and it is fairly close to all of the popular trails!
Views: (ReDwoods, Coastal Cliffs, Beach)
This is one of my favorite hidden gem location! Its so hidden that no matter when you visit this location, it is ALWAYS empty! It is the perfect location for and intimate & private ceremony and portraits. Cherry on top is that these location are dog friendly! You can bring your pup with you and enjoy the beautiful untouched redwoods forest and beautiful California coast! 
Special Use Permit: Special Use Permit is required for group larger than 11 total. Price depends on the group size.
Weather/Peak Season: No Peak (All Year Around) This sounds like good to be true but you can literally go any time of the year without having to worry about tourist! Although the weather is best from Mid September – October for more predictable sunny weather! Summertime can be super windy!
Lodging & Nearest Cities: Tons of Inns, Airbnbs, and wineries around this area! Closest city is Jenner & Monte Rio.
Views: (CoASTAL CLIFFS, BEACH, REDWOODS)
One of the most cutest coastal town in California! I absolutely love this place for their tight small communities that has a huge appreciation for arts & crafts. Not only the town is amazing, the views are breathtaking! Natural arch rock formations surrounded with succulents and never ending sound of the waves crashing into the cliffs. It is definitely a drive but so worth it! Mendocino is popular for elopement and intimate weddings and there are tons of venues that accommodates for intimate weddings. One of my favorite is Agate Cove Inn!
Special Use Permit: Mendocino is surrounded by few State Parks and they are $100 for Special Use Permit & Photo Permit (if only taking portraits). 
Weather/Peak Season: Peak (June-August) Summer & Early fall has the best weather with warm sunny days! To avoid the crowds, visit during late August to mid September!
Lodging & Nearest Cities: Mendocino has lots of cute Inns and cottages all along the coast! Fort Bragg is another town close by and has tons of options!
Mendocino Lighthouse Seaside Retreat
Views: (Desert, Cactus, Rock Formation)
To all the cactus & succulent lovers, this is your dream desert location! Joshua Tree looks like it is straight out of a movie set. The tall cactus trees and the huge rock formation make this place like no other place. In the Spring, cacti show their beautiful vibrant flowers which cover the whole park! During the fall months we can see an autumn sunset with the beautiful burnt orange sky. Even Though Joshua Tree is famous for its desert, some parts of the park are dusted with snow in winter, creating a whole new look to this beautiful bohemian landscape. This desert national park has lots of fragile ecosystems and the rangers have selected amazing eloping locations for you and your guests to have a safe and incredible elopement.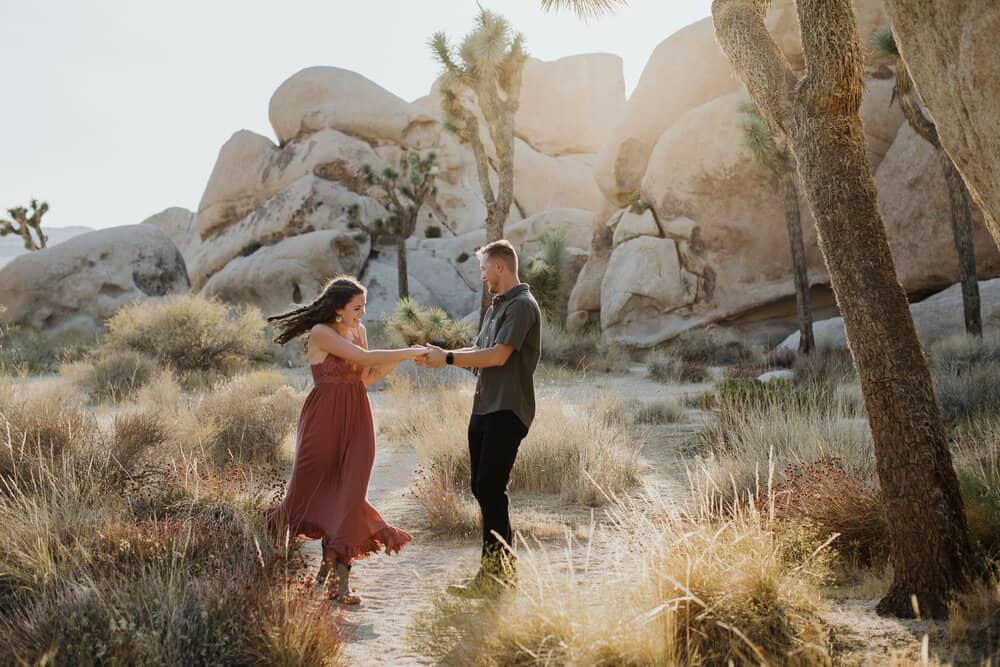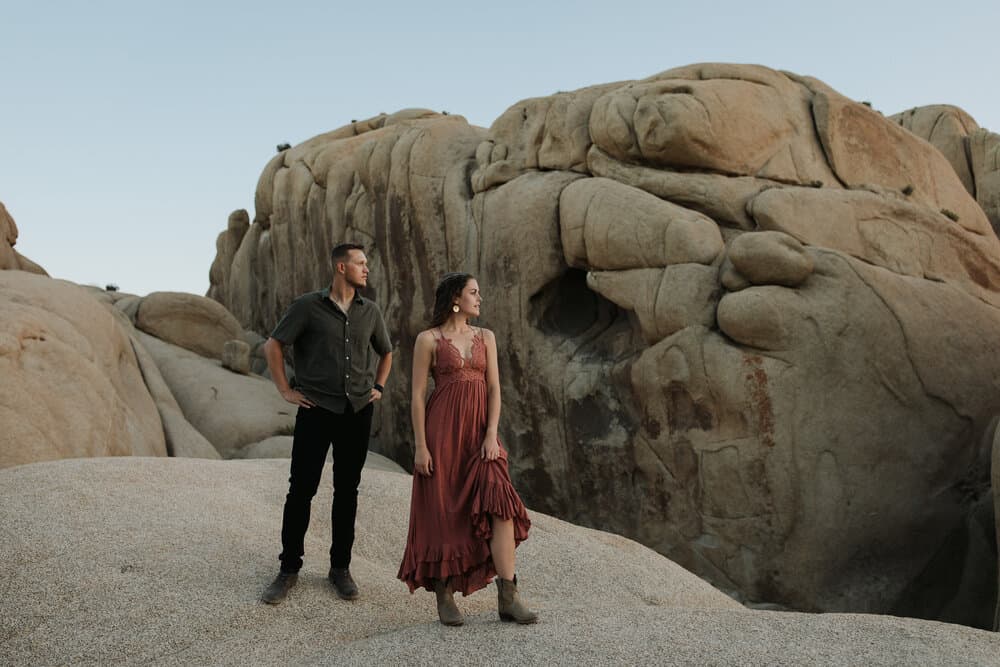 Special Use Permit: Joshua Tree National Parks  requires two Special Use Permits. One for your elopement and the other for photography ($120 each).
Weather/Peak Season: Peak (March-May) Since summer temperatures are over 100 degrees, there's more foot traffic during spring time. The best time to visit is during fall and winter months! The temperatures are comfortable and you will get the privacy to exchange your vows.
Lodging & Nearest Cities: Joshua Tree Has amazing Airbnbs near the park entrance and luxurious well- decorated lodging options to fill your bohemian soul. Palm Springs is less than  an hour-drive from the park!
Secluded Airbnb Surrounded by Boulders
Cute Secluded Airbnb with views
California Marriage License
Here's the fun legal stuff! Getting married in California is a breeze. I have listed below a few pointers for obtaining a marriage license:
 -Your marriage license fee will vary from $35-$100 depending on the county, so check several offices near your ceremony locations before you apply!
-There is no waiting period between application and pick-up! You can apply at any of the 58 county clerk's offices in person. Many counties allow you to download the application online so you can fill the form beforehand! Just bring a valid picture identification for your in-person appointment.
-Marriage license is valid for 90days. You can relax and not worry about the timeframe!
-You will need an officiant. You could either hire an officiant, have a friend or family member ordained, or we can officiate your ceremony! (we are ordained) 
-You will need a witness. You can bring a friend or a family member! Want to have "just us" experience? No problem! We can officiate and sign as a witness 🙂
Ready to plan to your epic day?