11 Reasons to elope in 2023
Sounds like you are interested in eloping and that is amazing! It could have been that you have seen a gorgeous elopement location or know someone that eloped. Regardless of how you found your way here, I'm so glad you have taken the extra step to get to know WHY you should elope.

What is an Elopement?
Why Do People Elope?
Before we get into all of the details, I want to touch base on what it means to elope. The word elopement has become increasingly popular after the pandemic and as couples seek out more unique and meaningful ways to celebrate their love. While there are still some people who associate eloping with running away in secret to get married, today, there is a newfound meaning.
In today's world, choosing to elope means to implement their values as the center of their experience. 
This means you have the opportunity to plan a more intimate, intentional, personalized wedding experience. An experience that focuses on a you, being present and planning a day that is uniquely you. 
There are so many reasons why couples today are choosing to elope. In this blog, we will go over 11 of the most popular reasons couples decide to elope.
1. Elopements Allows Quality
"just us" Experience
Most couples who have a traditional wedding don't typically get to spend time together entirely ALONE on their wedding day. Most traditional wedding itinerary is so jam-packed with endless details and set agendas that it's pretty uncommon for a couple to be able to spend even an hour alone on their wedding day. 
Elopement allows couples to plan a day in a way that is focused entirely on calibrating your love together. In fact, one of the main reasons elopements are so popular is because they focus on the couple's wants and desires, instead of the guests, like a traditional wedding. 
Couples who choose to elope opt to celebrate their day just the two of them, or with a handful of their favorite people (typically up to 20). Which is one of the best things about elopements! The only rules are the ones set in place by the couple, and completely customizable!
2. Elopements are a
One-of-a-kind Experience
There is a reason why you are individually unique, special, and unlike anyone else on the planet. Don't you think your wedding day should be unlike any other day or celebration?  Eloping gives your day a different experience than a traditional wedding, because it's unique to you and what you love.  
When you choose to elope, you can incorporate the things that you love into your entire day. 
What activities do you love doing together? Do you enjoy waking up before dawn for a sunrise hike? Roasting marshmallows near a bonfire in the moonlight? Taking a helicopter ride to an absolute remote location to read your vows? Maybe you enjoy surfing in the sunset or relaxing near a lake with your favorite bottle of wine and a perfectly paired charcuterie board. Why not include them in your day, and make it even more memorable? 
There are endless possibilities and the great thing about elopements is that you do what ever the heck you want!
3. Elopements are
Intentional & Meaningful
Your wedding day is about you, and your love, no one else. Choosing to elope means being able to choose what you want to include in your day, and celebrate in a way that is meaningful to you without worrying about what anyone else will think. 
You can include details that are important to you, like wearing your Grandmother's vail from her wedding, or reading letters from family members who aren't attending your "just us" ceremony. You could choose to get married in a place that holds meaning to your relationship or say "I do" in a destination you've always wanted to go to together.
Traditional weddings can be so stressful, because of the expectations from family & friends and tending for such large crowd. You can easily add on a tradition that you don't really care for just to avoid added drama.
While elopements can still be stressful for some, it's much easier to stay centered and keep the focus on what's important, especially if you're mentally and physically prepared ahead of time.
Elopements provide couples with the space to stay present in the moment without distractions and invite them to be their authentic selves. You can share your vows on top of a mountain without a soul around, free to be vulnerable, honesty and real.  Elopements bring the focus back to what matters most on your wedding day – your love. 
One of my favorite reasons to elope! Elopement gives you the opportunity to have the flexibility to pick your location, which is a direct reflection of who you are as a couple. 
A big reason couples decide to elope is because they want to be able to be themselves, and they want their photos to reflect their authentic connection with each other in a place that is as beautiful as is it meaningful. 
Traditional weddings often limit where you can go and photograph on your wedding day because you're tied to the venue. Don't get me wrong, there are tons of insanely gorgeous venues with jaw-dropping views but they cost $$$$. 
Without the distractions and limitation that come with a traditional wedding, you're able to spend more time focused on each other and get epic photos of your dreams. You'll have tangible memories of the intentional details and the moments that matter most to you, that'll you be able to relive your special day over and over again. This Redwoods Elopement is the perfect example of epic photos from day to night!
5. Elopements Saves Money
In 2022, The Knot asked 27,000 couples how much their cost. The survey revealed that the average cost of weddings in California was $37,000!
This was one of the main reasons my husband loved the idea of eloping. He always says "this could be a down payment for a house or even an awesome honeymoon" And he is completely right.
An average elopement can save at least half of an average spending of a traditional wedding while keeping it as luxurious and VIP as possible.
Couples decide to elope because they can choose what they want to invest in. They also don't have to worry about catering and entertaining 100+ guests, paying an insane amount of money for a venue, or any of the other outrageous expenses that come with a traditional wedding.
If you want to know how much elopements actually cost, I wrote a detailed blog explaining all of the expenses of an elopement and even added a calculator to give you a rough estimate!
6. Don't Want to be
the Center of Attention
If you are like my husband and I, the thought of everybody staring at us and answering the same questions gives us anxiety. If you are reading this blog, this may have crossed your mind when you first started planning your wedding.
When we used to photograph traditional weddings, I heard so many couples just wanted to "get away from the guests" because it is exhausting to talk to so many people. Even if they had the energy to do so, there is no way that they can have a meaningful conversation with every single guest that comes to their wedding.  
Having a selected smaller guest count (or no guests at all) will not only give you the relief of having social anxiety, but you will also be able to have meaningful quality time with your guests and with your future partner!
7. Planning For a Crowd is Stressful
We totally understand this firsthand because my husband and I were planning a traditional wedding before we eloped! You want your wedding day to be as special as you dreamed of and you have this vision in your head but then add guests, accommodations, catering, decor….and the list goes on. 
Things start to add up before your eyes, and now you need a backup tent in case it rains!? That's when we pulled the plug on planning our day. 
And I didn't even mention the accommodations for all sorts of personalities. There are lots of opinions and preferences when it comes to what is the BEST way to plan your wedding. And oftentimes, they are far away from your own. 
At the end of the day, you have to ask yourself if all the effort and thought of planning a day for your guests is worth it. 
If you think an elopement is just for the two of you, that is not the case! You can elope with people who truly matter to you. When you invest in the ones that matter most, it is because you want to, not because you have to, and that's always more enjoyable in my book.
8. Avoid Unnecessary Drama
Planning a traditional wedding is not only overwhelming but there can also be drama with trying to make everybody happy! 
This was another big main reasons why my husband and I eloped. We couldn't justify inviting every single person we knew in our life and we worried about potentially hurting anyone's feeling who weren't invited. It is very stressful to think about every single guest in the room, and worry if they are having a good time. 
You end up becoming a host when you should be cherishing the moment as a newlywed.
Your day should be about you and your partner, not spending the day worried about relatives who can't stand being the same room.
9. Sustainable = Less Waste
Having a big wedding can create a lot of waste, and I mean a lot! According to the article by Botanical Paperworks, "the average wedding produces 400 lbs of garbage and 63 tons of CO2. With an estimated 2.5 million weddings per year, that is about 1 billion lbs of trash and as many emissions as approximately 4 people would produce in a year, in just one single day".
There are ways to have a sustainable wedding, although having an elopement can cut most of the waist due to not having to decorate tables for guests!
This is why I always practice the principles of LNT (leave no trace), by reminding my couples to pack in what they pack out, stay on trail, respect the environment, and most importantly leave the space just as you found it. You can learn more about the 7 Principles of Leave No Trace.
If you're a couple who values experiences over material things and cares about the environment this is a great reason to elope!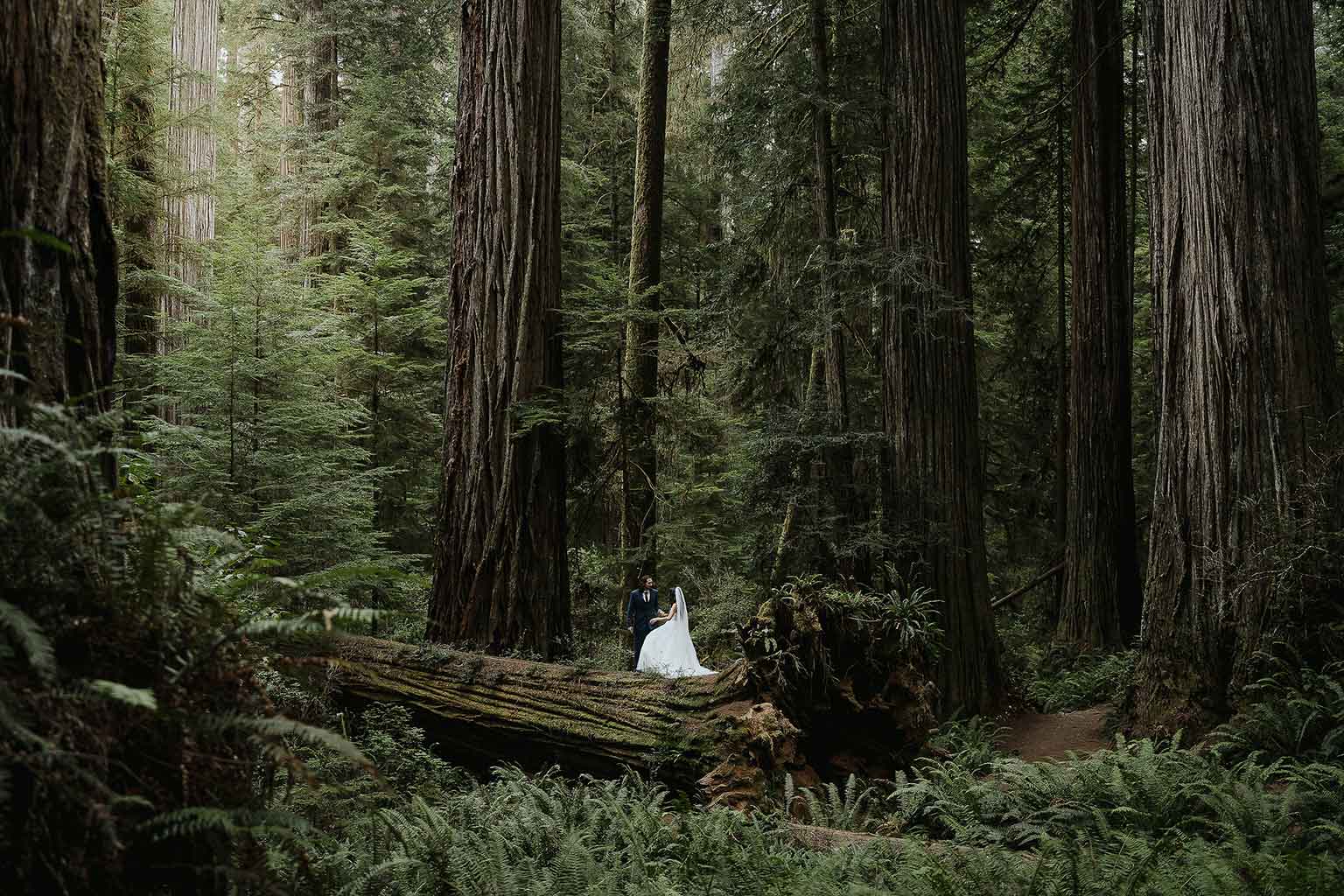 10. Adventure Together:
Because Life is an Adventure
If you love going on adventures with your partner, why not celebrate your love by adventuring together?  
Love camping? Why not plan a 2-day backpacking trip with a sunrise elopement? Do all your adventures involve the water? You could rent a Yacht and tour around a lake or go fishing! If your definition of adventure involves a sunset picnic, that's great too! 
Elopements don't always mean a hardcore hike or a challenging climb. Essentially, it means choosing your own adventure, whatever that may look like! 
If you feel like grabbing pizzas of pulling off on the side of the road to soak in the view, its your day, you can make the path to your adventure.
All the memories and fun you will share on your wedding day are irreplaceable, so plan the adventure of your dreams! It's the perfect way to start your marriage together – your greatest adventure yet!
Having your elopement at your favorite park means you are supporting National, State & Regional Parks at the same time! 
By paying for special use permits and parking, you are contributing to the maintenance of the park. Those funds are also used to pay for the amazing Park Rangers who make it possible for us to visit these beautiful places. 
If you are adventurous at heart, love exploring, appreciate and know the importance of giving back, this is a huge reason to elope! Let's all do our part to support and preserve the parks so we can continue to enjoy them for generations to come!
Have You Decided to Elope?
If you have made this far, thank you for reading this blog and it sounds like elopement may be right for you! If this blog, 11 Reasons to Elope in 2023 has convinced you to start planning your own elopement, be sure to check out my blog that goes into details on How to elope in California!
If you are ready to elope and need an expert to help you plan and photograph your elopement, I'm your person! All you have to do is fill out the contact form and we can bring your dream day to a reality!